Posted by Cheryl Miller on Jul 14th, 2008 | 5 comments
Success is amped and ramped up when we set goals.  Yesterday several of us had the courage to set some public goals.  Today I want to share a very cool tool with you that will help you track your success with achieving your goal.  A subscriber shared this site with me the other day.
It's called www.joesgoals.com.  It's an amazing little program that doesn't require a software download…so you don't need to get permission from IT to use it at work.  You can set yourself up in a matter of seconds.  You can use this tool to set personal or professionals goals.  And it's FREE – one of our favorite words!
Here's a description of Joe's Goals from the web site.
What is Joe's Goals?
Joe's Goals is a simple yet powerful tool to make tracking your goals the easiest part of accomplishing them. Use the simple single page interface to setup daily goals and track them with just a click. Watch your daily score to gage your success and use negative goals (or vices) to confront and overcome bad habits that finally need to get the boot. Share your success with your friends and family or post your personal score badge to your blog or MySpace page. Add as many Goals as you want and update them all from a single interface.
Here's a screen shot of my goals page: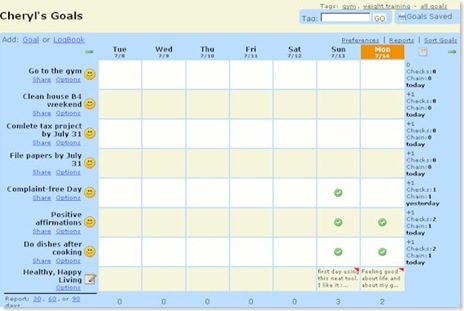 You can add journal entries for each day too–see the bottom line?  I called my journal "Healthy, Happy Living."  Neato!  Try it. 
Tracking our goals takes our commitment (and discipline) to the next level.  Ready to do that? 
Click on the blue box below to see my goals.  You can root around and see how this tool works!  How's THAT for public goals! 
Print This Post
|
5 Responses
Leave a Reply