Posted by Cheryl Miller on Jul 1st, 2008 | 9 comments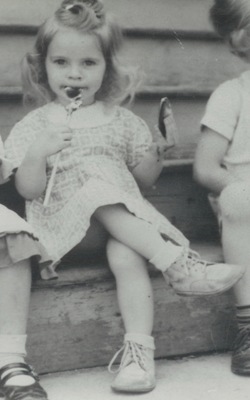 As you can see from this photo, my sugar craving started young. I think I was 3 in this picture. I still cross my legs and eat suckers.
I'm going public with my discipline experiment because I think it will make this experiment more fun and because it may help me stick to my plan–you are my accountability factor. I also am an educator and coach and always want to turn my lessons and experiences into teachable moments for others–if they have the same interests.
Why do I want to do this experiment? While I'm disciplined in many areas of my life, I'm quite permissive in my personal life. I naturally tend toward immediate gratification–even though I know better. My friends think all I do is work and that I'm driven, but in my personal life I'm kinda mushy. It's that mushiness that I'm tired of. The soft underbelly has just gotten too soft–if you catch my drift.
After helping my aging parents get resituated in their home after rehab (mother) and babysitting (father), I'm ready to get started on my new and improved life. My mother has been a packrat all her life, and I vowed as a teenager not to follow in her foot steps. I've mostly succeeded, though I have her same natural tendencies toward clutter, creativity, ADD, permissiveness, a positive attitude, and immediate gratification. That's why I've so ferociously walked the self-help path these many years…and why I'm devoted to helping others do the same.
I don't know what these 30 days will look like but I admit to being a little scared. What if I eat ice cream when I've decided not to? What if I don't go to the gym even one day this month? What if and what if? But there's also the what if I succeed beyond my wildest dreams and find a new level of health and well-being?
As I look around I wonder if I might be one of the rare beings who is willing to look at my faults and frailties–they don't scare me nearly as much as they could. I'm on a mission to live a healthy, happy life and if that means facing my demons, then so be it! I find that many people are chicken–they're deathly afraid to look at their faults. I just don't get that. Big deal, you have faults. Who doesn't? So I'm special–willing to look at my screw-ups! Want to join me?
I have a sneaking suspicion that during this experiment I will have a blend of successes and challenges, and that I will make great headway in surprising, and as yet unknown ways. That excites me and calms my fears about the unknown. I want to thank you for being my accountability factor–let's not underestimate your role in helping me succeed. Think quantum physics–where we've learned that the observer changes the outcome of the experiment.
Want to join me in this experiment? If so, subscribe to my feed to get my daily posts. I'm assuming I'll write daily posts! But again…this is an experiment and I don't know for sure what the outcome will be. Here are some topics I think I'll be addressing during my 30-day experiment:
What is discipline to me?
Will I write something every day?
Am I disciplined?
Is being disciplined important to me?
How would discipline help me–make me healthier or happier?
What do I want to be more disciplined about?
How will I work through resistance and obstacles? Just do it? Decide and do it? Will that be enough?
What's my plan?
What outcome/s would I like to have?
30 days or longer?
Any wiggle room? How about–drop discipline when doing the activity would throw me too much out of whack – energy, time, etc.
How to manage energy and my mood?
How can I make it more fun and interesting?
Do it by myself or with others?
What about beer, coffee, ice cream and staying up late and sleeping in! How many times can I hit the snooze button
Will I develop a routine or schedule of things I choose to be disciplined about?
Here are some things I want to be more disciplined about–gossip, complaining, my moods/perspective, healthy eating, regular routine/schedule, planned meals, scheduled enjoyable fitness program, weight loss plan, neat/clean house and yard, on top of life—bills, important papers, balanced checkbook, self-care and beauty stuff. How will I make progress–look at just a few things? Pick the most important? Go whole hog and track progress in all/many areas? These are the burning questions.
To subscribe to the feed to watch this discipline experiment unfold, either click "subscribe" in the upper right column of the blog or subscribe to the feed by clicking the icon in the upper right column that looks like this
. Or you can follow any permissive tendencies you might have and try to remember to check the blog regularly….or you may ignore this invitation entirely. If you join me, I hope you will comment wildly on the posts so I'll know that you're with me on this journey. And I'm interested in knowing what your personal experience is with discipline. So let's carry on!
To our healthy, happy, more disciplined lives!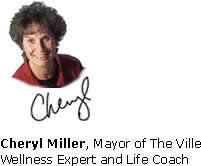 Print This Post
|
9 Responses
Leave a Reply