Posted by Cheryl Miller on Jan 3rd, 2012 | 2 comments
Described below are two gifts for you (a calendar and an invitation to a teleclass:  New Year's Evolution:  Evolve Instead of Resolve)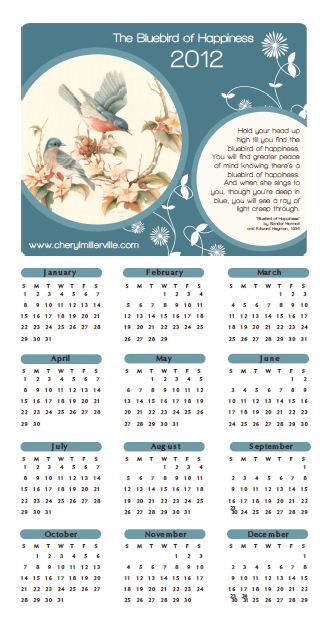 To show my appreciation for you and your subscription to CherylMillerVille.com, I'd love to share this year's beautiful "homemade" Bluebird of Happiness calendar.
Here are two printing options:
Option 1: Just click the link below to save the pdf to your computer and print on nice, medium-weight paper.
Option 2:  Or for a more beautiful and dramatic effect, save the file to a CD or flash drive and have it printed in high resolution (11 x 17) for just $1.78 at Kinkos.   Framed calendars make great gifts!  I purchased a bunch of inexpensive 11 x 17  frames and delivered several framed calendars to friends and colleagues in Lawrence and they loved them.
2012 bluebird calendar (download PDF – it's a large file so give it a little time to download).
Gift #2:  Wednesday, January 18 (10am PT | 11am MT | 12pm CT | 1pm ET) I'm offering a FREE teleclass:  New Year's Evolution:  Evolve Instead of Resolve!  Here's the link to more details and to register.    Hope to meet you on the call!  This class is over, but here is a link to the notes and audio from this class:  http://www.cherylmillerville.com/nye-resources  I hope you enjoy it!
Happy New Year – 2012 is the year of power and action!
Print This Post
|
2 Responses
Leave a Reply